If you're wondering what to do in Daylesford and are in love with vintage and second hand, the Mill Market is an essential visit. But be warned, it's not the place for a quick pop-in. You'll want a couple of hours to browse through the many stalls.
The Mill Market is unlike most large indoor markets. It's light, warm and spacious and a pleasant environment to spend some time browsing. Hundreds of stalls occupy two large warehouse sized spaces at 105 Central Springs Road. If you're concerned about what to do in Daylesford to keep the kids happy while you fossick, don't worry. The Mill is very child friendly. Kids can safely browse among the huge range, including old records, book and comics. The large, Peppermill Cafe, located onsite, has plenty of tasty food choices and large windows, overlooking the trees.
Shopping For All Tastes And Styles
Fossickers at the Mill Market are a diverse bunch of people. Some people search with something very specific in mind. They'd be able to spot an original piece of Fenton glass, or a Featherstone chair hidden amongst the most ramshackle stalls. Others shoppers are in love with a particular era and search for a 'look' via shape, colour and materials. They look for the sleek lines of art deco, the natural curves and bright colours of 50s modernism, low line teak from the 60s, or the tell-tale avocado, burnt orange and metallics from the 70s. Then there are those at the Mill who browse the stalls looking to be enchanted, to be reminded of their childhood or their grandparent's home. It doesn't matter what type of fossicker you are, the Mill Market in Daylesford has a range of stalls selling items spanning all decades, from the 1850s, right through to the1980s.
Home Decorating Solutions
If you are decorating your home and looking for what to do in Daylesford and where to browse, the Mill offers plenty of inspiration. Discerning shoppers are sure to find a few choice items among the stalls. It's the perfect destination to find really interesting items at a fraction of the price of buying new. Vintage and antique pieces have survived the test of time and will add character and personality to an interior. Shoppers can find furniture in classic shapes made from quality timbers like oak, myrtle and pine.
Have you got a bare wall that needs brightening up? Among the many stalls at the Mill Market you'll find old paintings, vintage prints and posters, as well as antique and vintage mirrors that can really make an impact.
Selective browsing will also reveal character pieces that can be re-purposed. Think a set of distressed pigeon holes, old timber ladders or a chest of drawers in the lounge room. Single pieces, like a vintage chair in a classic shape or an eye catching lamp, can become an interesting focal point.
Blokes & Sheds
If you thought all markets were just china and old baskets, think again. For more traditional blokes searching for what to do in Daylesford, The Mill supplies plenty of inspiration. Old bottles, timber crates, large industrial pieces, rusty steel and all sorts of inspiration for outdoor art and garden features can be found. Couples with different interests can wander off in their own direction and rendezvous at the cafe for lunch.
Rockabilly, Retro & Independent Labels
For those who love vintage fashion, The Mill has plenty of stalls selling vintage clothes from all eras. As well, there are independent designers selling new fashion made from upcycled vintage materials.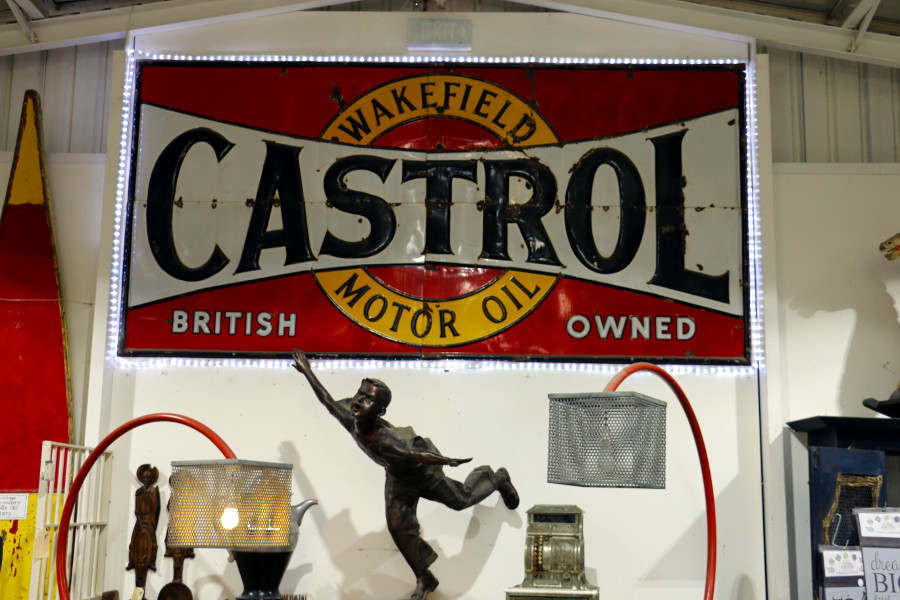 What To Do In Daylesford After A Visit To The Mill
After spending a couple of hours at The Mill, enjoy a coffee or lunch at the cafe on site. If you're still feeling inspired to continue the hunt for treasures, there are a number of antique and vintage shops close to town. Start at one end of Vincent Street and fossick and browse your way to the end.
After a long day of shopping, we suggest kicking back with a glass at the lovely Daylesford Hotel or the Farmers Arms. The beer garden at The Surly Goat – a five minute drive from Daylesford – is also highly recommended as a quiet, low key alternative to the pub.

Nearby Accommodation – Luxury Hepburn Springs and Daylesford
There are so many things to do and see in Daylesford and Hepburn Springs and a weekend or a few days is required to explore the main attractions. There are many accommodation choices in Daylesford and if you're after something special Hepburn Springs luxury accommodation caters to all tastes.
For a real country experience with original antiques and oil paintings, try Kookaburra Ridge – a gorgeous 2 acre country house with a sprawling garden of roses, herbs and an orchard. For absolute Hepburn Springs luxury accommodation, Hepburn Spa Pavilions provides Horizon and Saffron, two sumptuous self contained pavilions with hydro spas, overlooking the Hepburn Mineral Springs.
Where Is The Mill Market?
The Mill Market is open 7 days a week and is located at 105 Central Springs Road, Daylesford, There is plenty of parking available.