Things To Do In Hepburn Springs For A Slow Holiday
Imagine you've finally organised some time to escape for a weekend. And you've decided to head to Hepburn Springs. Do you make a long list of all the things to do in Hepburn Springs and try to fit them into a couple of days? Or do you take it slower and find a couple of things to do once you arrive?
Psychologists report that often people find holidays stressful because they expect that their holiday should be filled with lots of amazing experiences. However, from our own experiences we know it is often better to slow things down, do less and do it your own way.
With this in mind, we're providing our favourite locations in Hepburn Springs that we think are ideal for a slowed down holiday. Hopefully they can inspire you to find a few things to do in Hepburn Springs to chill out, while you spend time with the important people in your life.
Six Relaxing Things To Do In Hepburn Springs:
#1 Hepburn Bathhouse 
Hepburn Springs is a place to get away from the stress of modern life. A visit to the historic Hepburn Bathhouse, where you can experience the natural spa waters and a massage, is an opportunity to give your body some pampering.
The Bathhouse is set within Mineral Springs Reserve. Choose from a range of hydrotherapy pools, including the relaxation pool, the steam room, bathing couches and salt therapy pool. Private bathing is also available. You can also book a massage and a range of body and beauty therapies. See more about Hepburn Bathhouse.

#2 Lavandula
Lavandula is ideal for those who love nature, gardens and of course lavender! Lavandula was established by the Swiss Italians who came to the area in the 1850s in search of gold. This beautifully landscaped and historic property has rolling fields of lavender, productive vegetable and herb gardens, a number of original stone buildings and a shop.
You can spend a blissed out morning exploring the gardens and finish with lunch at the rustic La Trattoria restaurant on site, which is supplied by produce from the gardens. See more about Lavandula.

#3 Convent Gallery, Daylesford
There's nothing like art to lift the soul, inspire and move you. The Convent Gallery in Daylesford is an award winning art gallery that also tells the history of the area. Overlooking Daylesford and with spectacular views, the gallery was originally a convent and reminders of its past have been preserved for visitors in different parts of the building, including the beautiful chapel.
The gallery has eight exhibition spaces and showcases a range of contemporary art and sculpture from Australian and International artists, a shop and gardens. See more of The Convent Gallery.

#4 The Surly Goat
If you want to sit back with your good friend and share a beer or glass of wine, The Surly Goat in Hepburn Springs is the perfect destination. Located next to the entrance to the Hepburn Springs Reserve, the Surly goat provides a laid back sunny beer garden and bar to really hit the spot in the warmer weather.
This unpretentious and friendly restaurant also offers a contemporary Australian menu and is ideal for a romantic or casual dinner. The menu includes a selection salmon and seafood, duck, steak and vegetarian options, as well as inspiring sides and an irresistible creme brulee for dessert.
#5 The Argus Dining Room
On a romantic anniversary or special break, you may feel like really treating yourselves. If this is your thing, then we recommend The Argus Dining Room, in the heart of Hepburn Springs. The restaurant is inside a meticulously restored art deco building and is the height of elegance.
The menu is imaginative and beautifully presented and doesn't disappoint, with locally sourced produce and vegetables from the restaurant's onsite garden. There's a reason this restaurant has won a Chef's Hat. See our review of The Argus.


#6 Hepburn Springs Luxury Accommodation
Our final recommendation to set the scene for your ideal holiday in Hepburn Springs is to find the right accommodation. Luxury accommodation has to exceed all your basic needs, engage your senses, make you feel pampered and make you never want to leave.
We think luxury begins with a beautiful setting, crisp, white bed linen and super fluffy towels. A spa is great, but real luxury is an enormous double hydrospa, and the right mood lighting to make you want to float in bubbly bliss with a glass of champagne, forever.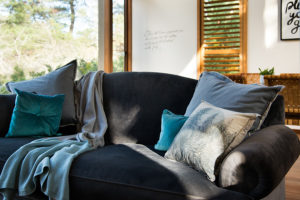 An enormously cosy couch in front of a fireplace, with views across the treetops, and all the technological must-haves is an essential requirement for luxury in your Hepburn Springs accommodation. As is a fully appointed kitchen in which you can hunker down, shun the limelight and cook up your own romantic dinner to share – with everything at your fingertips.
Pure luxury accommodation is a coffee machine for preparing an extremely late breakfast, with high quality organic coffee included. And a little biscotti! Now that's the perfect accommodation.
We know we're a little biased, but without exception Hepburn Spa Pavilions meets all the luxury accommodation criteria above. We're confident our two luxury spa villas (Saffron and Horizon) overlooking the Hepburn Springs Bathhouse, and our country house, (Kookaburra Ridge) on two acres, will make you never want to leave and will exceed all your expectations for luxury accommodation.
We hope our suggestions can help you pick just the right things to do in Hepburn Springs to match your tempo and provide you with a holiday that is rejuvenating and memorable.
For more information about things to do in Hepburn Springs see our reviews. Contact us to ask about or book your Hepburn Springs accommodation.